Articles
Listen to a radio program
about Sidco's services - interview with Sidco President, Rod Sanders -
click here
to listen (8M mp3 file)
..............................................................................................................
Hope in the Storm
Dr. Lloyd Harsch had lived in New Orleans for years teaching at the New Orleans Baptist Theological Seminary. He had also weathered the many storms and hurricanes that often pounded the shores of the Crescent City. So when Hurricane Katrina headed towards the coast, Lloyd packed up his family and a few supplies in their van, thinking they would only be evacuating their home for a couple of days, a week at the most. They would soon realize that was a gross underestimate.

Katrina soon broke through the city's protective levies flooding its streets and houses, including the Harsch's home. Everything that they had left behind was lost. In the storm's aftermath, they decided to relocate to Fort Worth, Texas, where they already had some connections.

However, in the rush to get out of town, Lloyd had removed a bench seat from his van. This seat and their second car along with all their other possessions were destroyed in Katrina's wake. This left them in Texas with a van without a bench seat - which did not fit their needs. So Lloyd called his friend Rod Sanders, CEO of Sidco, about buying a van. "In no time a Grand Caravan was located and in great condition," said Lloyd.

The Harschs were very pleased with the friendly service and high quality vehicle Sidco located, purchased, reconditioned and delivered. But only nine days after the Harschs drove away in their Grand Caravan, the unthinkable happened.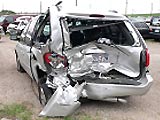 His wife, Jill was rear-ended in an accident which landed her in the hospital with minor injuries, but had totaled the van. Once again, they were left without suitable transportation. They had received such great service from Sidco with the purchase of their first van that they decided to see if another van could be located. It was.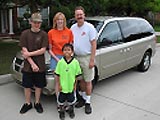 "Within a week, Sidco had found another Grand Caravan and with fewer miles than the first one!" Lloyd said. Not only that, they got such a great price on the first van that the insurance money from the accident covered 100% of the more expensive second van. It was an answer to prayer, and the Harschs could not be happier with their Sidco experience.

According to Dr. Harsch, "Sidco has been great to work with. They get great cars at low prices and provide expert service. We would highly recommend Sidco!"